PANTHEON, ROME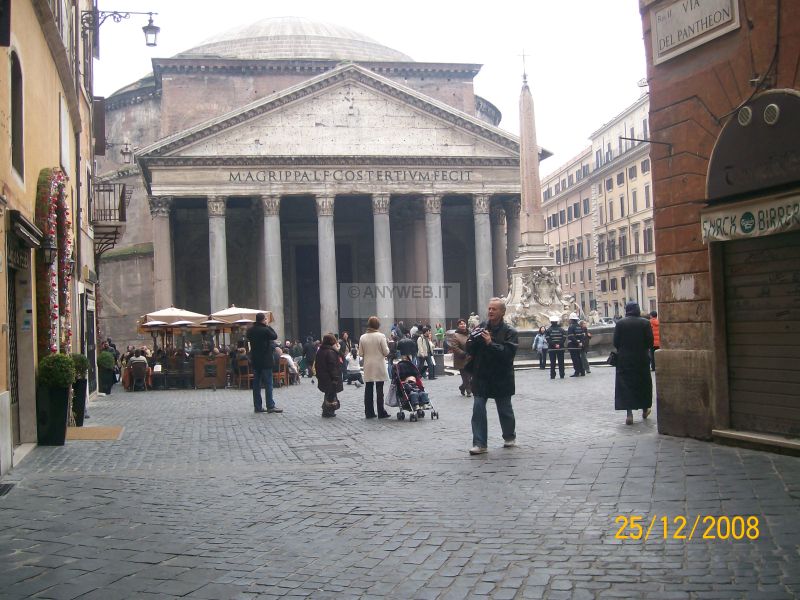 The Pantheon is a building in ancient Rome, built as a temple dedicated to all gods past, present, and future.
The inhabitants of Rome they call it amicably the Rotonna, ("la Rotonda"), hence the name of the square outside. Was rebuilt by the emperor Hadrian between 118 and 128 ad, after the fires of 80 and 110 a.d. had damaged the former building of the Augustan age.
Lā building of the Pantheon is indescribable in a perfect sphere.
The height of the building is equal to its diameter and measuring 43.44 m to 43.44 m. This feature responds to classical architecture policy balanced and stable.
In the Pantheon of these principles are synthesized from the perfect harmony of lines and from the calculation of the geometry of the masses.
At the beginning of the 7th century, the Pantheon has been converted into a Christian basilica called Santa Maria della RotondaNel 2013 has been visited by 6,579,888 people
The 43.44 m diameter dome, is the archetype of the domes built in later centuries in Europe and in the Mediterranean, both in Christian churches, both in Muslim mosques.

For CIA which concerns the diameter, the dome of the Pantheon was, until the construction of Brunelleschi's dome in Florence, the more big ever;
Today, when you consider the coverage of the CNIT of Paris as a dome (actually is a vault), is the third.
The dome of St Peter's has a slightly smaller diameter. Among the concrete domes, the Pantheon is the size of the diameter still unsurpassed.


PANTHEON, ROME
Informazioni article by:
REDAZIONE, Pisa